What Is Leased Ad Space
Leased Ad Space is an advertising platform for solo entrepreneurs, affiliate marketers, and home and small business owners in the make money online niche. Leased Ad Space also includes an affiliate program for people who want to sell advertising.
The Leased Ad Space concept is simple:
Every person or business trying to make money online needs more website traffic.
For advertisers as well as affiliate marketers.
Leased Ad Space Introduction
1. Leased Ad Space offers advertisers and members a variety of advertising packages. Advertising includes:
Solo Ads
Banner and Text Ads
Ad board directory
Public Profile Page
Personal Networked Blog for unique content
Search Engine Traffic as information is public and indexed by search engines
Advertisers and members may buy one-time traffic packages to meet their advertising needs. Advertisers may buy as much or as little advertising they need as there are no monthly subscriptions.
2. Leased Ad Space offers an optional affiliate program.
This short (5-minute) video gives you an introduction to Leased Ad Space.
Leased Ad Space Advertising Packages
The following chart shows the advertising packages available for purchase. These are one-time buys.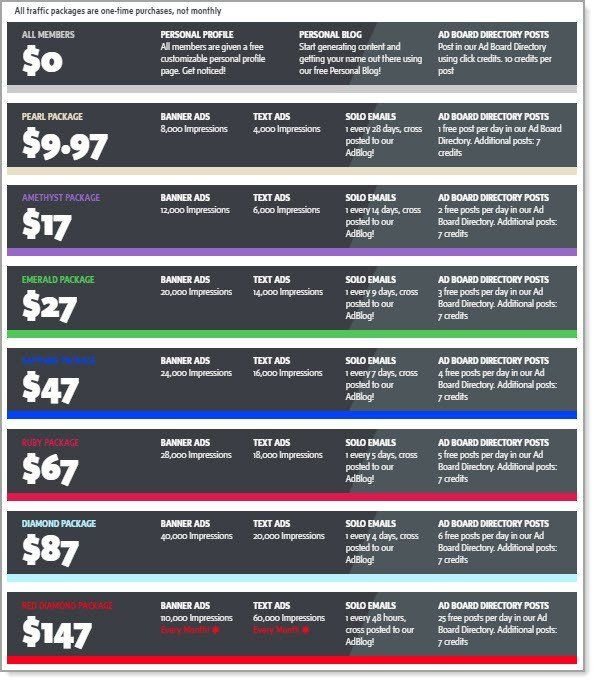 Because each ad package contains "renewable" advertising (solo ads for example), packages
must be purchased in order. In other words, advertisers must buy the lower tier packages
before buying a higher tiered package.
ParaAds
In addition to the ad packages, "ParaAds" and "Login" ads are available for purchase.
ParaAds are a new product being offered by LAS. In addition to being shown to members logging in, ParaAds are rotated among a network of public advertising sites. ParaAds are sold as 5-day runs, 10-day runs, 20-day runs, and monthly runs. The monthly runs are popular and usually sell out quickly.
Login Ads are shown to all members as they log in. The ParaAds pool is carefully managed so that login ad impressions are fairly distributed and seen by members.
Advertising may be purchased using PayPal and Bitcoin using Coinpayments. Traffic package purchases are non-refundable.
More than just advertising packages
LAS also provides a Public Profile Page and a Personal Networked Blog.
The LAS blog is a great way to promote unique content related to any business or interest you have.
Personal blogs are indexed by Google. Members' blog have shown on the first page of Google's Search Engine Results Pages.
Promote Leased Ad Space
To promote Leased Ad Space you have tools like email swipes, text ads, banners and splash pages.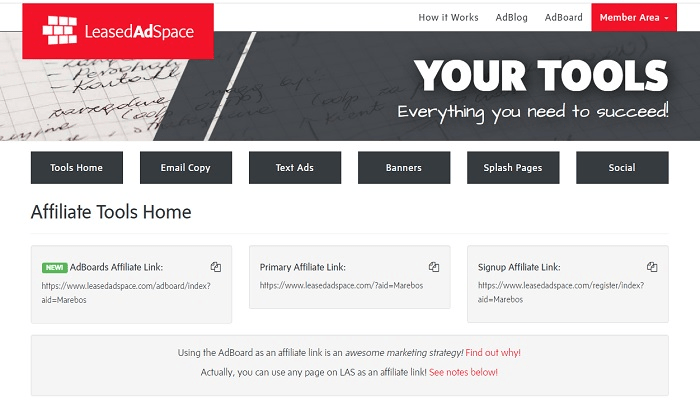 Leased Ad Space Affiliate Program
This section describes how to make money with Leased Ad Space.
Leased Ad Space members are paid up to 75% commissions instantly for the traffic packages sold.
One thing to note; members are NOT paid to recruit new members. But are ARE selling ad space and traffic directly. There is no matrix, no binary trees, no cycling, or any other gimmick to confuse and confound affiliates.
Also, affiliates are paid for traffic packages sold regardless of whether they have purchased the package or not. So many affiliates are members of programs that require the purchase of a package before making a commission on packages sold. Not at Leased Ad Space!
In fact, members do not have to own an advertising package at all to earn a commission.
Commission payout levels are determined as follows:
Recruit – 25% commission on all sales they refer. Recruits (free members) do not themselves own a traffic package.
Soldier – 50% commission on all sales they refer. Soldiers own at least one traffic package themselves.
General – 75% commission on all sales they refer. Generals own the Red Diamond traffic package.
Leased Ad Space used a commission matrix system until 2018. But the LAS owners decided to make the affiliate program better. So they deleted the forced 8 x 7 matrix system as well as the requirement that affiliates must purchase a traffic package in order for to get paid for selling one.
I only say this as there are many outdated LAS reviews online that mention the matrix commission structure.
To become an affiliate requires a one-time payment of $10 for account setup. U.S. residents are required to fill-out and submit an IRS W Form.
To receive commissions, an affiliate needs to meet certain conditions. These are related to having an active account by logging in periodically, using the advertising packages, or having traffic to your affiliate links.
And affiliates must be able to receive commissions, either by PayPal or bitcoin.
As with any business, your results may vary, and will be based on your individual capacity, business experience, expertise, and level of desire. Additionally, there are no guarantees concerning the level of success or income you may experience with our system or traffic packages. In addition, all member purchases are final. Most of all, this is not an investment scheme, you are not paid from future earnings of the company, all earnings come from direct member to member sales.
Register Here
---
---
Comments
comments