What is LeadsLeap?
LeadsLeap was launched in 2008 and started as an auto surfing site, and now it has released its second version with more opportunities and rewards for its members. In this review, I will give you a profound insight of this site to get a good idea of how this works and what are its pros and cons.
LeadsLeap is a site that helps you to generate leads for you along with sending traffic to your site and participation in revenue sharing. The overall objective of this site is to assist you in the following area;
Send traffic to your site.
Guide you to different aspects of internet marketing.
Participation in revenue sharing activities.
Access to the variety of tools to help you build a successful business.
How LeadsLeap 3.0 System Works?
LeadsLeap is a combination of revenue sharing, advertising, and lead generation system. To put it differently, it has three parts;
1) Make money by sharing our revenue.
2) Place ads and generate traffic to your websites.
3) Build ten levels of free leads that you can reach out easily.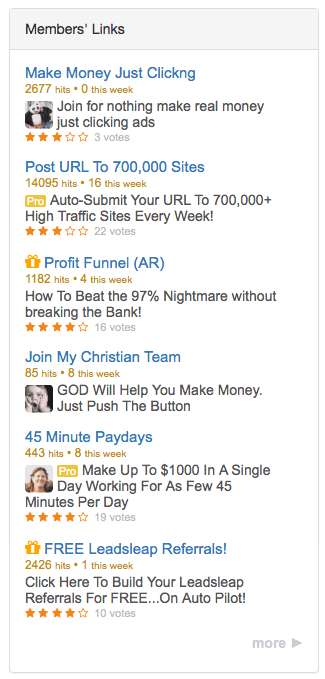 How Does Revenue Sharing Works?
There are three ways a member can earn money from this system;
1) 5% – 10% Revenue Share Scheme.
A member has to surf at least ten ads in a day. If you are a free member, you will earn 5% sharing and 2016-02-23_13-16-4710% to pro member. This will reward you credits and you can use these credits for your own advertising or can convert your credits into cash.
If you look at other PTC or PTS sites, you are forced to view ads for 10, 20 or 30 seconds. This is not the case here, and your earnings depend on the duration you surf.
2) 15% – 30% Revenue Share Scheme.
In this scheme, a member can participate in revenue sharing if he/she send traffic to the ads in the network. This is pretty similar to the Google AdSense, but you don't need any website for this.
Free member can earn 15% of sharing percentage and 30% for Pro Members. Three are three ways to participate in this scheme:
Add LeadsLeap Widget to your site.
Use The Real Tracker with the activated ad widget.
Send traffic to the widget via your affiliate link.
3) 25 – 50% Affiliate Commissions
If you refer new people to the system, then this will also earn you. Let's suppose your referrals becomes pro member then it will earn you 25% recurring commissions if you are a Free Member and 50% if you are a Pro Member.

How LeadsLeap advertising works?
There are two contextual advertising programs, Free and Pro. To participate in free ads, you need credits. There are many ways to earn credits including;
Watch other members' ads.
Rate ads
Rate up line message.
Activate ad widget on your site along with The Real Tracker. You will earn credits when people click the ads in the widget.
If you send traffic to LL blog via your affiliate link.
Pro members can only use Pro Ads. You don't need any credits, and it will be shown in the network of sites. There are multiple ways LeadsLeap send traffic to your site;
1) Other members surf your ads.
2) LL send your ads to members of the site via email.
3) If members send outside traffic to your ads via widget and The Real Tracker, then LL compensate them for this.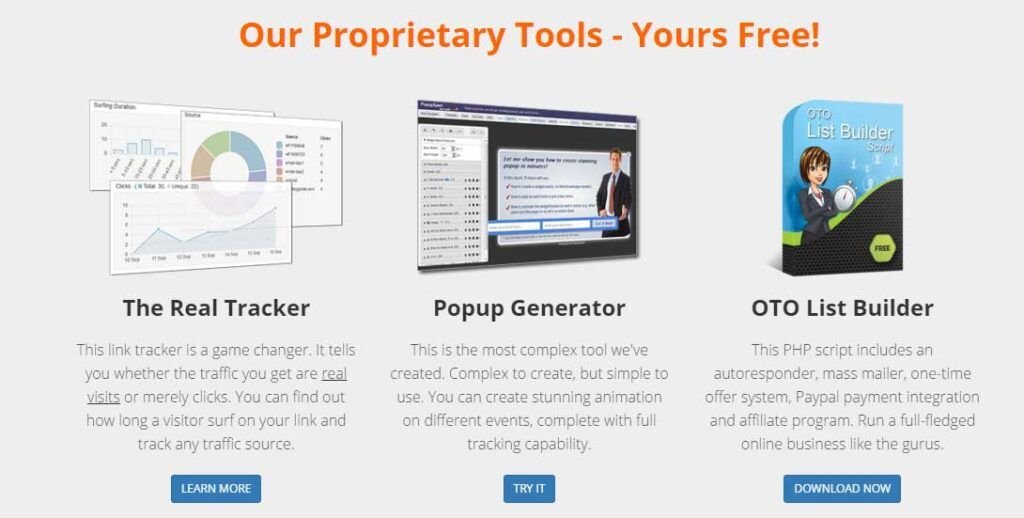 How leads building system works?
This system comes with a 10-level downline. This will increase your reach to not only your direct referrals but also to other nine levels of referrals they and their leads bring in.
LeadsLeap helps you in lead building process in the following manner;
1) Ease of referring people
This system attracts to a wide range of audience in the following manner;
Beginners looking for making money online
People looking for blog monetization and they need help
Affiliates marketers and entrepreneurs looking for leads for their businesses, and
Internet marketers are looking for tools to develop their businesses.
2) A sustainable downline communication system
LeadsLeap has devised a great downline messaging system so that you may communicate to your downline. This will help them to stay motivated and get good input from experienced members.
Most other programs failed because there is no such thing and communication gap causes all system to get in trouble.
3) A good member retention system
The system is constructed in such a way so that your downlines are busy in building their own businesses using LeadsLeap service. Let's look at how they are working on their own by posting ads to get traffic, earning money through revenue sharing programs and use top-notch internet marketing tools to grow their own businesses.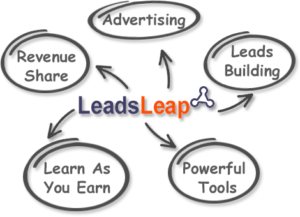 Bottom Line
You can join as a free member, but for more autopilot advertising, you will need to upgrade.
A lot of marketers have said the upgrade price of $27 per month is well worth it as it is cheaper than PPC advertising and works just as well.
To grab a Free EBook about how to use LeadsLeap Click Here
Other than one is free, and the other is not, let's break down which is which.
One of the best benefits of being a pro member is that you do not need credits to advertise your business.
Free members, on the other hand, have to click on other people's ads to collect credits to advertise with.
If you are a pro-member and you have extra credits that you don't need, you can sell them back to LeadsLeap. Although this doesn't make you rich, it is an extra bonus for being a pro member. Free members can also sell their credits, but for a lesser price.
Pro members also get revenue shares each day based on the amount of credits you earned. Pro members earn double the amount that free members do. Pro members also get double weekly rev shares. This is where each member gets paid a share according to how many clicks they received on their LeadsLeap widget. So the more place you place the widget, the more weekly rev shares you get. There is the added bonus of getting random referrals as well.
Register Here
---

---
Comments
comments